Global Affairs Canada: Growing up in the sprawling Nayapara refugee camp at Cox's Bazar in Bangladesh, Safi Ullah lived for soccer. He and his fellow football fanatics played the sport at the camp's learning centres—"It was the only reason to go to school," Ullah quips—the games taking place in the surrounding rice paddies and continuing long after class-time. The kids played barefoot in the thick mud and sharp stubble, their ball often improvised out of plastic bags wadded together.
"I would come home with a big smile on my face, despite having some part of my toes bleeding," recalls Ullah, who was born in the camp after his parents fled there from Myanmar to escape persecution as Rohingya. When the family of 8 came to settle in Canada in 2006 when he was 12, he found a new love of the sport, this time played on grass and wearing shoes.
oday Ullah, 27, is captain of Rohingya FC Canada, a team that competes in 3 soccer leagues in the area around Kitchener-Waterloo, in southwestern Ontario, where he and many other Rohingya refugees live. One of several Rohingya football clubs that have been started in countries around the world—including Malaysia, India, the United States and Ireland—it gives these displaced people a sense of identity through sport.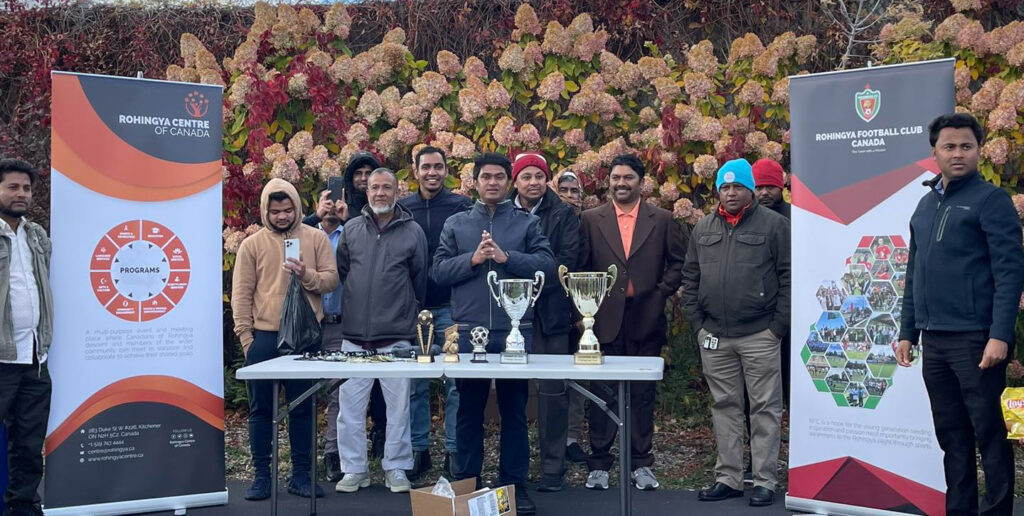 "I'm very proud to wear the Rohingya FC jersey," says Ullah, who works as an assistant in a real estate office that is a team sponsor. The club has a crest that features a beaver and a soccer ball, and it includes some 23 Rohingya players. The "A team" that plays in top-level competitions has 8 Rohingya and 3 non-Rohingya members, 1 of them Ullah's boss.
"We try to give them the message of what is going on back home," he explains.
The team was officially created 5 years ago with the help of Saifullah Muhammad, who recently founded the Rohingya Centre of Canada, in Kitchener. "It brings the community together," says Muhammad, 35, who left Myanmar in 1991 for Bangladesh and then lived for a decade in Malaysia. He co-founded the first Rohingya FC team in that country in 2015 and came to Canada the next year.
The new centre has a large trophy case that displays the awards, medals and ribbons that Rohingya FC Canada and individual players have won. These include a trophy the team claimed in 2019 in a match against United States Rohingya SC, which visited Kitchener from Chicago.
There are also awards won in local tournaments and district leagues in the area. In the Grand River Soccer League, which is just below the semi-pro level, Rohingya FC Canada came out on top in 2021 with an all-winning record. It also won a tournament the same year organized by the Bangladeshi community in Toronto.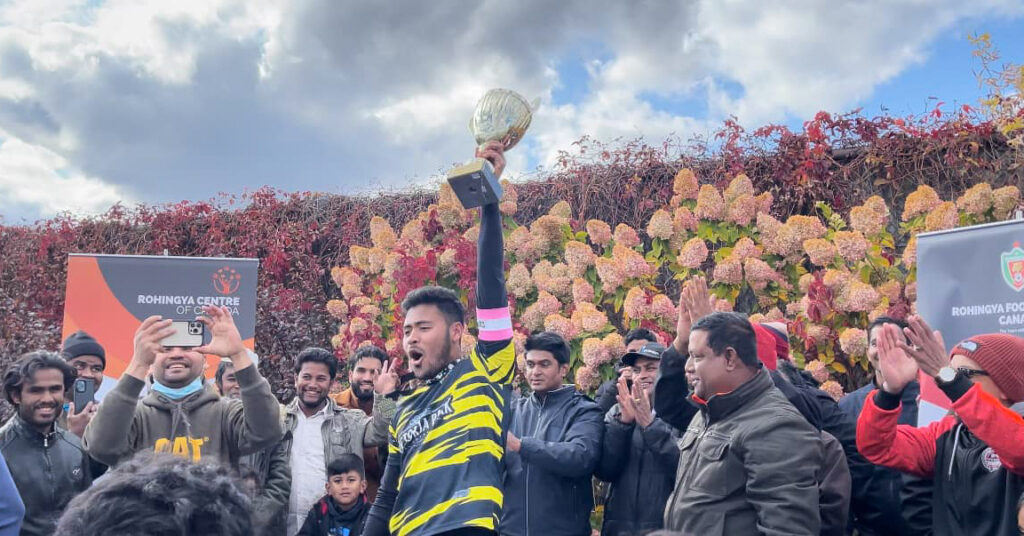 Muhammad calls it "a club with a mission," which includes building awareness of the plight of the Rohingya and simply making the point that "we have the freedom to call ourselves Rohingya in Canada."
He says the goal is for a global Rohingya FC team with Canadian members to compete in the Confederation of Independent Football Associations World Football Cup. That is an international tournament held every 2 years for states, minorities, stateless peoples and regions unaffiliated with FIFA.
The Canadian team is "more than just a football club, it is a hope for the younger generations," says Muhammad. He is working with Ullah to start a training academy in soccer and other sports "to produce quality players from the Rohingya community."
Ullah himself once tried out for the Canadian Premier League, a professional soccer squad. He placed in the top 20 of about 400 players, although only the best 2 or 3 were chosen. He wants to "keep playing soccer as much as possible," but is determined to bring more Rohingya players onto the team and into its training effort. The idea of 1 of them rising to an elite level "is a dream," he says, "especially if I can help."
Rohingya FC Canada has not only done well in competition, it's done good things for the wider community. In 2018, the club was part of a charity tournament where it played a team of Syrian refugees, called Kitchener-Waterloo Syria United FC. They competed in futsal, which is played indoors with a smaller ball, raising $3,000 in donations from spectators so the Syrian team could cover its league registration fees and buy equipment. Rohingya FC Canada won the game but gave the trophy to the Syrians, calling them the "true champions" of the day.
Ullah is grateful that his family made it to this country and for "all the blessings that Canada has given us." He keenly watched Canada's drive to qualify for the 2022 FIFA World Cup, and is hoping to see the Canadian team succeed there. "I think that would make a big difference in Canadian football history," Ullah says.